Expanding the practices' knowledge on new building products which are shaping the future of the construction industry.
Nick and Ben recently visited the SuperSIPs production centre in Suffolk, one of only four UK manufacturers of Structural Insulated Panels (SIPs). The innovative construction product provides excellent thermal efficiency and air tightness as well as structural integrity. Through combining these performance criteria into one product, it is possible to create incredibly efficient structural walls, in many cases eliminating the need for steel superstructure entirely. This approach reduces the overall material quantity and carbon expenditure in construction, offers meaningful cost savings and dramatically improves build programmes.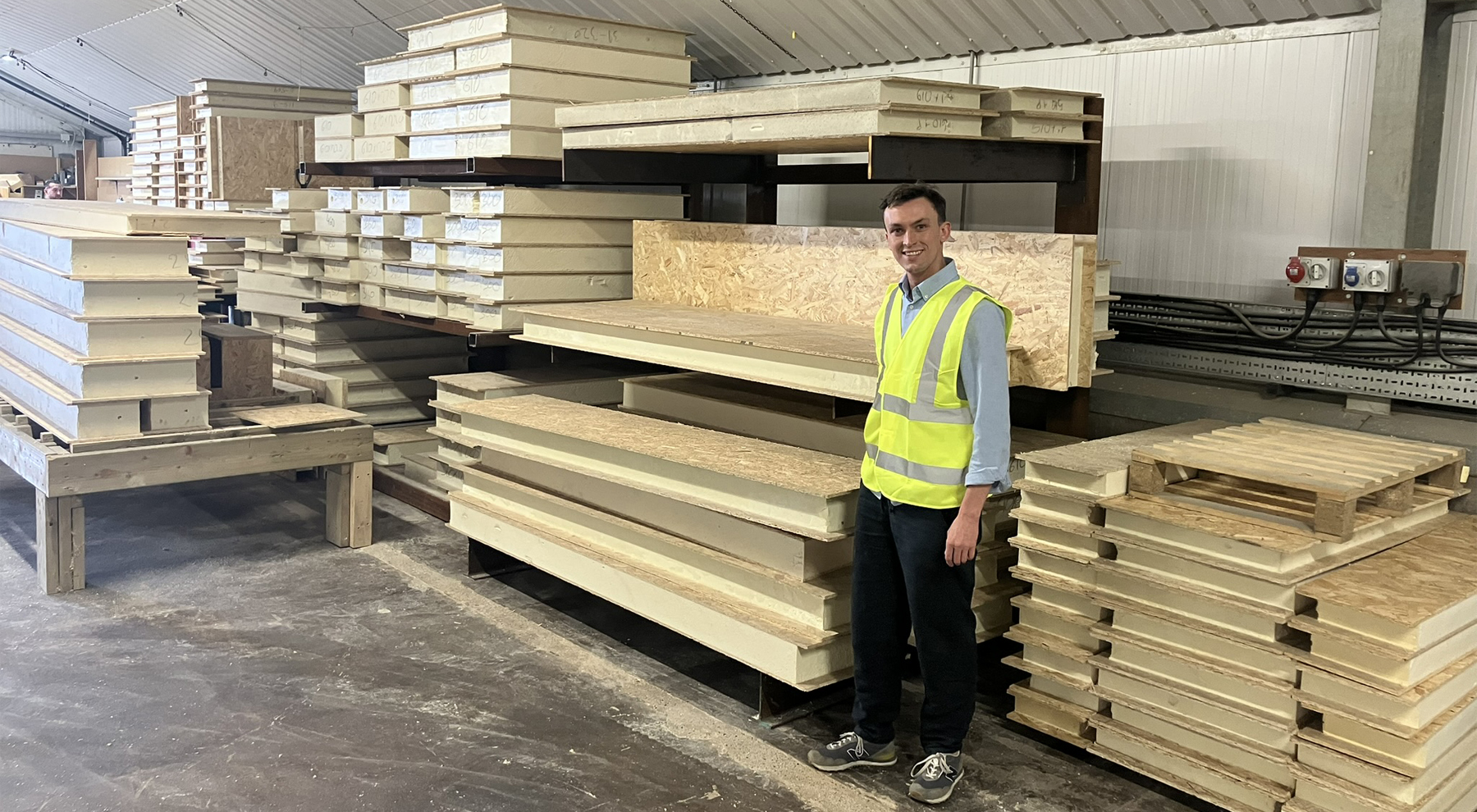 The panels consist of two outer sheets of engineered timber (typically OSB but other timber panels can be specified) which have a rigid insulation foam injected between at high-pressure to form a dense, structural sandwich panel. SIPs packages can be designed offsite and "flat-pack" delivered to location. Typically up to 3m long, the panels are light enough to be man-handled into place before being slotted and bonded to form walls, roofs and even floors for one or two storey structures. Large openings can be pre-cut with other minor adaptations cut onsite. The SIPs envelopes are wrapped in a vapour membrane before battens and various outer claddings are applied. Internally, the panels can be left exposed or taped and lined for added performance and air-tightness.
SIPs systems are typically used to create individual dwellings or house extensions, however, we are finding opportunities to utilise the product for commercial scenarios, where the obvious benefits to installation speed, performance and cost can revolutionise build strategies.
SuperSIPs' expansion plans are impressive with their manufacturing site soon to grow with the adoption of new robotic manufacturing technology. We expect to see SIPs products more widely used in the UK residential and commercial construction sectors and our team hopes to continue working with SuperSIPs to deliver high-performance SIPs buildings in the near future.
01/08/2023