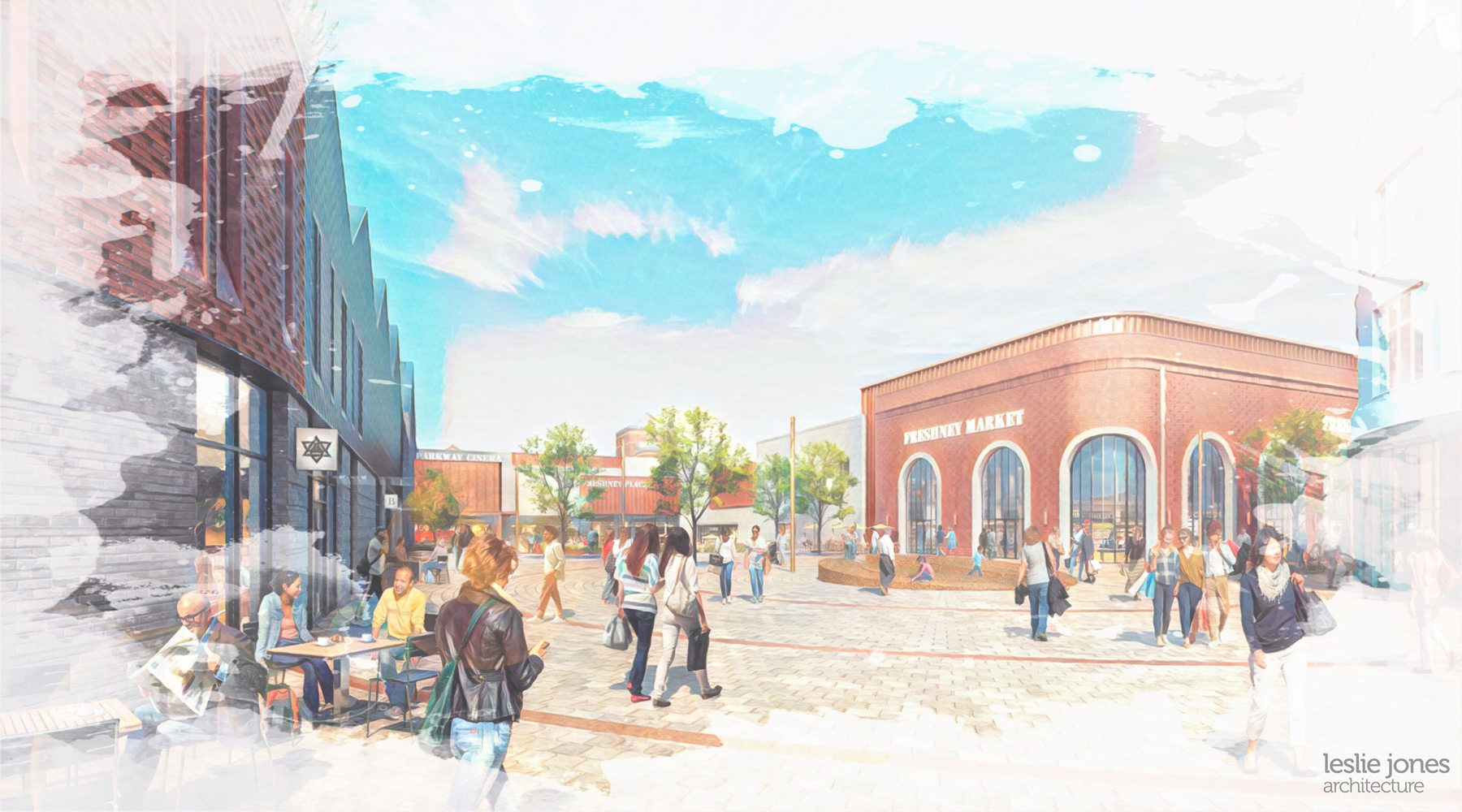 Public Consultation has launched!
Editors
Nick Strachan, Director
Xavi Tomassetti, Associate
Jason Wells, Architectural Assistant
Public Consultation has launched for our project at Freshney Place, Grimsby. The three-week  forum will give the public an opportunity to review and offer comments on the evolving plans, which are targeting a planning approval in February next year. The project was initiated following a successful submission of our outline plans to the first round of the Government's Future High Street Fund. The development will bring a new and modernised Market Hall to the town centre, including a more diverse offer of traditional market retail, alongside upgraded fresh food, street food, bar and Competitive Social activities.
The scheme, centred around a quality new public square, will introduce a cinema and leisure unit along with smaller cafes and restaurants. The project forms a catalyst for further upgrades to the centre as part of a wider masterplan. Our client, North-East Lincolnshire Council, recently bought Freshney Place Shopping Centre and along with Queensberry as Development Managers, Leslie Jones are at the centre of a repositioning strategy to improve and diversify this key area at the heart of the town, focusing on how the place can work better for local communities and better relate to the scale and grain of Grimsby town centre.
Nick Strachan, Director, comments: "This project captures so much of what our studio is about- a genuine opportunity to correct and realign a struggling retail destination at the heart of a community, using sympathetic design to introduce new and alternative uses and quality public space to drive forwards a much-needed town centre regeneration. We have taken a RetroFirst approach to our decision making, retaining and refurbishing parts of the buildings where feasible in an effort to reduce the carbon footprint of the development".
A critical Design Review Panel led by Design Yorkshire commented: "The approach and journey taken by the project team is applauded. A robust contextual study and analysis has been undertaken to establish the qualities and characteristics of the surrounding area. This has informed the design proposals which demonstrates a clear and strong understanding of place which is commended by the Panel. Overall the proposals represent a great scheme and a positive step forward for the town. Once developed, this scheme can make a lasting contribution to Grimsby and could provide a key destination for the future."
Please see the link to the online Public Consultation below;
26/09/2022